As technology advances, our smartphones have gained better resolution, more megapixels and better photography settings than ever before. The great news is that you don't need to be a professional photographer to take quality group photos on your smartphone. With a bit of practice, you can have the perfect shot ready to print at your nearest Snappy Snaps in no time. We've created a how-to group photography guide to help you to get started:
We've created a how-to group photography guide to help you to get started:
Lighting is key
The first thing to consider when taking any photo is lighting. Soft, even, natural light works best when shooting people. Avoid direct sunlight; people will look happier and more relaxed if they're not squinting into the sun. If you are in low light, try stabilising your smartphone. When your surroundings are dark, smartphones let more light in by slowing the shutter speed, which means any slight movement can make your photos blurry. Rest your phone on a flat, stable surface and use the timer setting if you have it.
Think about photo composition
Vary the head heights of people in the group. Try a graduated surface like a flight of steps or a sloping lawn to ensure that everybody can be seen without looking like a prison line up. You could have some people seated and others standing. As the photographer, try elevating your position. A shot taken looking down is not only more flattering, but will allow you to include more of people's heads and shoulders, even if they are standing at the back.
Remember some basic phone photography rules
Before you take your photo, make sure that the lens is clean. Your phone can spend long periods of time in your bag, your pocket or in your hand and you don't want those smudged fingerprints spoiling your family photo.
Avoid the zoom
Try to avoid using the zoom where you can. The digital zoom on most smartphones is simply the software cropping the image down to a smaller size, which poses the risk of losing resolution and the image becoming grainy. Try getting closer to the group so that they fill the frame. You can always crop the image yourself later if necessary.
Keep focused
You should be able to tap on your screen to focus the image to avoid fuzzy faces. This is a really useful feature that the majority of smartphones have, so be sure to use it. If you have a large group of people, minimise the number of rows as much as you can to avoid those at the back being out of focus with those at the front.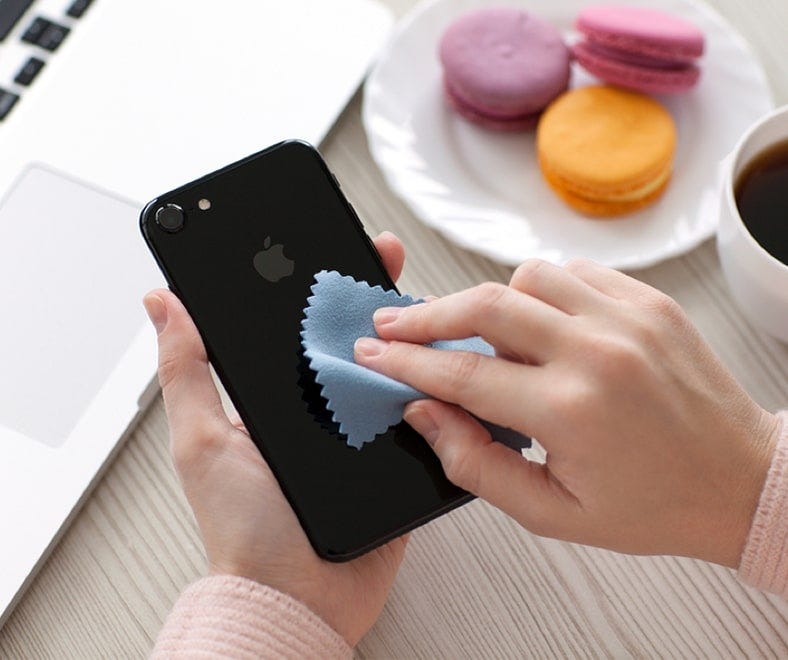 Be patient with children
When children are in your group shot remember to have patience and to have fun. Go with the flow and let the children take the lead. They look the most natural when they are able to be themselves. Try getting down on their level and be ready to anticipate that amazing smile when you make them laugh.
Choose a portrait over a selfie
When the group you are trying to capture is small, the temptation today can be to take a selfie. If you can, ask someone around you to take a group portrait to avoid your arm sneaking into the frame. A front-facing portrait will look a lot more natural and feel more timeless than a selfie.
Choose a natural location
A simple background works really well for a group photo. When there are lots of people in contrasting outfits, your image can look messy if the background is cluttered. Think about going to the beach, a park or into your garden.
Experiment with apps
Once you have taken your photo, there are lots of different editing apps that allow you to improve the look of your shot. Use apps to crop images, brighten dark shadows, perhaps even change the photo to black and white for a classic look. Why not consider combining photos into a
photo collage
?