Get inspired with SnapShots
Before you jump behind the camera again, get those creative juices flowing with our expert photography tips, jaw-dropping gift ideas, and useful guides that make snapping even easier.

Based on our corporate site, SnapShots is a place that helps you discover new ways to capture, share and cherish your favourite moments. Head over there now! Snappy Snaps Taunton
Snappy Snaps Taunton is open both online and in-store for all your photo printing needs. Bring your moments that matter to life with unique personalised photo gifts and instant photo prints that you can treasure forever.
Discover our most popular services
Snappy Snaps Taunton offers a huge range of photo services, meaning you can bring your very special memories to life to share in your home or as a gift for others. From customised t-shirts to photo restoration, our photo printing experts would be delighted to help you. Speak to our photo specialists in-store or order online now.
Our Photo Services
We offer more than just digital printing online.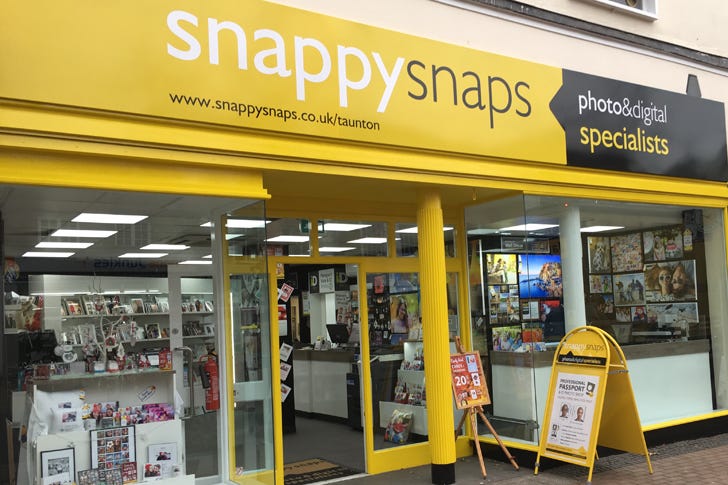 Snappy Snaps Taunton - Our Location
Our convenient photo printing store is located on North Street in Taunton. We have professional, exhibition quality photo printing equipment with trained photographic operators all conveniently located on North Street Taunton. We offer design and print services with our in-house advisors and have onsite business printing for flyers and business cards.
We can produce a wide range of personalised gifts on-site and while you wait, everything from mugs to jigsaws with your favourite photos on and of course we offer worldwide passport and visa photos.
You can contact us via email taunton@snappysnaps.co.uk or by phone: 01823 321453
Photo Printing Services
At the Snappy Snaps Taunton store, we offer a fantastic range of photo prints and photography services so you can cherish your memories forever. Transfer your old VHS tapes to DVD (or USB) so you can watch them again and bring back the memories. Give the perfect gift to a loved one by transforming their favourite photo into a photo gift for them to cherish along with a photo book full of memories. You can also create new memories in our portrait studio with our baby photography service.
─── ✮ What Our Customers Say ✮ ───